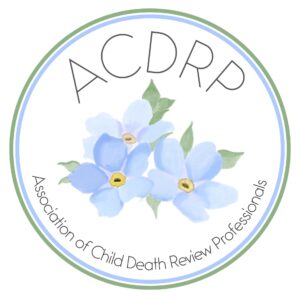 The Association of Child Death Review Professionals (ACDRP) is an independent, multi-agency network of child death review professionals, supported by NHS England.
The objectives for the group are:
To influence national guidance by providing a central point through which CDR professionals can make representations and recommendations to national bodies and professionals Eg. Department for Education, NHS England, Department of Health and Social Care, UK Health Security Agency and Office for Health Improvement and Disparities, police, coroners, medical examiners, Local Government Association, academic institutions and professional bodies such as RCPCH, RCM, RCOG, RCGPs, NNDHP, HVA etc.
To develop a network of expertise on child death review processes, including the joint agency response to unexpected deaths, hospital child mortality review and Child Death Overview Panels.
To support the development of national professional standards for effective reviews of child deaths.
To establish training opportunities for CDR professionals and continuous professional development for those involved in the CDR process.
The aims for the ACDRP are:
Raising the standards and consistency of CDR processes across the country.
Providing support and guidance for child death review professionals. This will include sharing tools / frameworks of good practice e.g. self-assessment framework; Memorandum of Understanding; Risk Register etc.
Working in partnership with other agencies, organisations and networks to advocate changes to policy affecting potential deaths in children
Click to view the full list of Executive Committee Member June 2022
Click to view the ACDRP  Articles of Association – DRAFT
If you are a professional working within child death review please follow this link to join the ACDRP NHS futures webpage. CLICK HERE
If you would like to become a member of ACDRP and you are a professional/volunteer working in child death review or have done so in the last 5 year, please complete the ACDRP MEMBERSHIP APPLICATION FORM